Understanding the Different Types of Mortgage Loans [INFOGRAPHIC]
Posted by Jen Smith on Monday, December 12, 2022 at 3:40 PM
By Jen Smith / December 12, 2022
Comment
Every home buyer has unique needs. Luckily, multiple mortgage loan options are available to help meet the varying needs of each Mid-Missouri home buyer.
The truth is that some people shy away from buying their own house because they mistakenly believe they need a perfect credit score and a full 20 percent down payment. Yet, this is simply untrue. Regardless if you have exceptional credit and a full down payment or your credit is less than perfect, and you need to get into a home with the smallest amount of cash possible, you'll be surprised how many mortgage lenders can help make owning your own property a reality.
Still, understanding the nuances of the various mortgage options, especially as a first-time buyer, can be challenging and confusing to navigate by yourself. So, to start, let's look at some of the most common types of mortgages using our infographic below.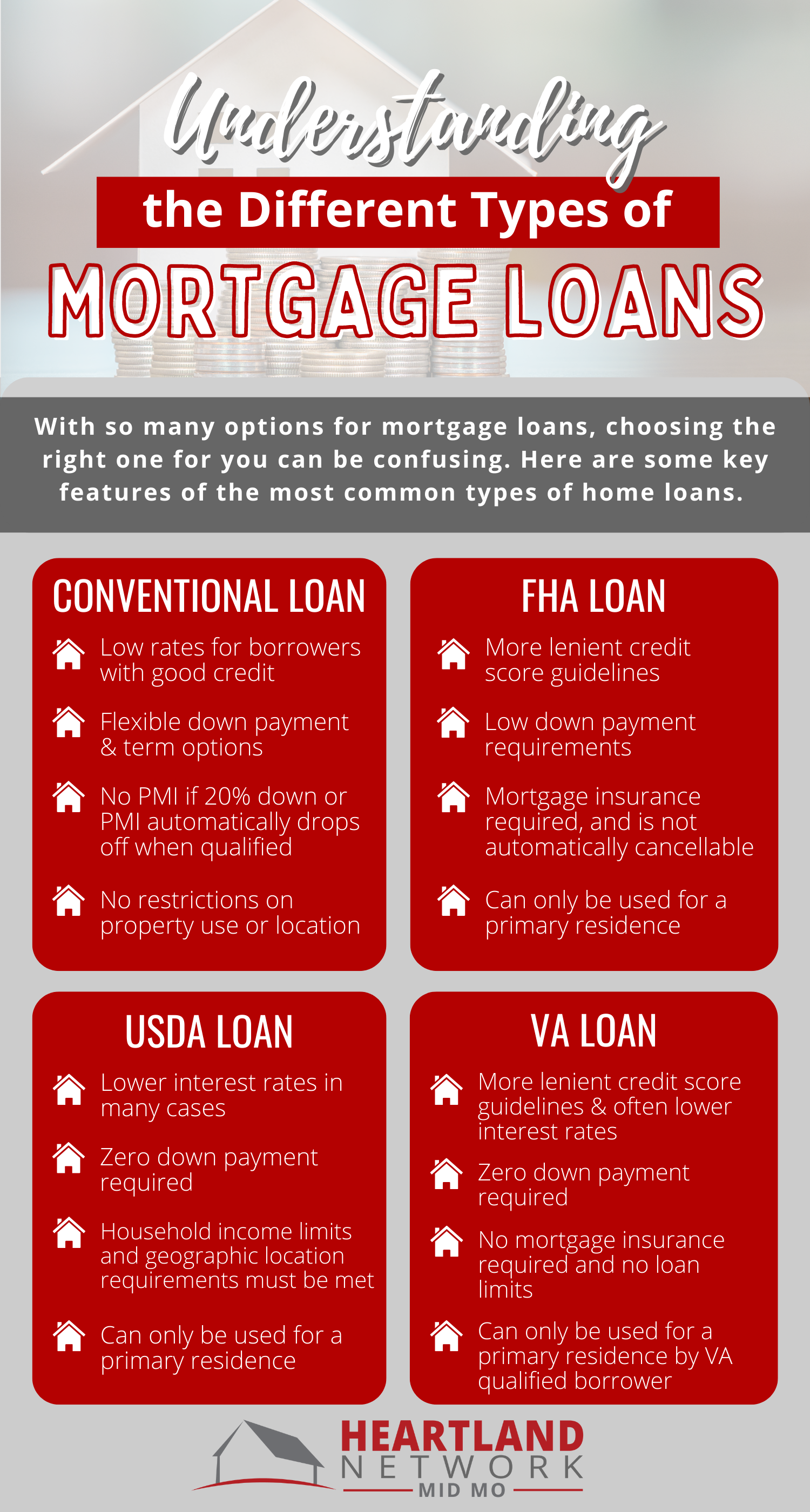 What is a Conventional Home Loan?
A standard or conventional loan is a mortgage type that is not backed by any government agency (like USDA, FHA, or VA loans are). These loans are originated, funded, and serviced by private lenders like credit unions and banks. A conventional loan generally requires borrowers to have the highest credit score but offers the lowest interest rates to those with excellent credit. Though a 20 percent down payment is not required on these loans, borrowers who do not put 20 percent down must pay for private mortgage insurance (PMI) monthly.
The good news is that this private mortgage insurance carried on conventional loans automatically terminates once the principal balance reaches 78 percent of the property's original value. Conventional home loans come in many forms, including adjustable-rate, fixed-rate, and jumbo loans. Buyers can use conventional loans to buy nearly every type of property, from vacation homes to primary residences and more.
What is an FHA Loan?
FHA loans are insured by the Federal Housing Administration, a United States government agency, and are only available through FHA-approved mortgage lenders. These loans offer buyers the option of more lenient credit score requirements than conventional loans and as little as 3.5 percent down. In fact, in some cases, credit scores as low as 500 are accepted, but 580 is more common.
If your credit is less than perfect, then an FHA loan often offers lower interest rates than conventional subprime mortgages. FHA loans do require borrowers to pay mortgage insurance over the life of the loan. However, this does not always mean you are stuck paying for this insurance forever. Once most FHA borrowers have the required 20 percent equity, they opt to refinance to a conventional home loan and stop paying these insurance premiums. Just keep in mind that FHA loans can only be used to buy primary residences and have to meet specific government appraisal standards.
What is a USDA Mortgage Loan?
USDA loans are issued through the United States Department of Agriculture and are designed to help buyers with lower credit scores and lower-income purchase homes in some geographic areas. For a buyer to qualify for a USDA loan, they must be looking to buy a property in an eligible suburban or rural area.
This program requires borrowers to use the loan to buy a primary residence, and their income limits must fall below certain income criteria, which are determined by the median income levels in the area. Most lenders require that you have a credit score of at least 640 to obtain approval for a USDA loan.
What is a VA Home Loan?
VA home loans are backed by the United States Department of Veteran Affairs and are available to select U.S. Service Members and their spouses. Though there are many myths about VA loans, they are one of the best benefits to those Service Members who qualify. VA home loans offer qualified purchasers lower interest rates, low or no down payment, and no private mortgage insurance (PMI) requirements, making them attractive to many homebuyers.
These loans can be used to buy a home, add to or renovate the current home, or finance the construction to build a new one. Though lenders set the minimum credit scores required to qualify, credit requirements are usually more lenient than those of conventional home loans.
Which Type of Mortgage is Best for Me?
Learning more about each loan type and choosing the best one for your needs is best done with the help of a trusted, local mortgage lender. This person can examine your current situation and help compare your options based on your down payment, credit history, and other qualifying factors.
Closing Thoughts
With so many borrowing options available, buying a house may not be as out of your reach as you may think. Even if you are just considering homeownership, it may be worth your time to speak with a lender to examine your available options. The best part is that if you don't qualify for a loan right away, the lender can help you decide what actions you need to take to improve your credit or chances of qualifying for a home mortgage.
We always recommend that you work with a local lender who offers excellent communication, a proven track record of success, and consistently closes deals on time. Moreover, an effective lender can provide you with varying loan packages, in-house underwriting, competitive closing costs/interest rates, and will help you find the mortgage loan that fits your budget.
If you have any questions about securing a home loan, need help evaluating the loan options, or have other real estate needs, our team is ready and willing to help! Simply complete the form below, and one of our team members will contact you soon to discuss how we can meet your needs.