Why You Need Professional Staging and Photography for Your Home Sale
Posted by Beth Carr on Wednesday, August 17, 2022 at 11:42 AM
By Beth Carr / August 17, 2022
Comment

When it comes to selling your home in the Mid-Missouri areas of Boone, Callaway, and Cole counties, making the absolute best first impression is critical. The way your home is presented, both in person and in photographs, along with a strategically set price, will drive what happens after it goes live on the market. When you use both professional staging and photography, you are ensuring that buyers see your home in its best light and accentuate its best features. We believe professional home staging and photography are the foundation of an effective marketing plan. We believe in the power of professional staging and photography so much that we invest in both of them for all of our listings. Let's dive into why these things matter so much for your home sale in Mid-Missouri.
What is home staging?
To start, it's important that you have a true understanding of what professional home staging really is. It's more than just giving your house a good cleaning and getting rid of some clutter (both of which you should definitely do before you list). You should always take the time to thoroughly prepare every part of the home for potential buyers (our handy Home Seller To-Do Checklist is a great guide!). Professional staging takes this preparation a step further, going the extra mile to drive the best possible outcome for your home sale. It is all about highlighting your home's best features and making it appeal to a wider range of audiences. Home staging is a proven technique that uses the visual presentation of a space to draw a potential buyer's focus to the best features of a property.
What do professional home stagers do?
Professional stagers will work with you to decide what you should keep out and what you might want to put in storage to maximize the visual appeal of the space in your home. They can work with what you already have, including your furniture, paint, and decor to help highlight the best features of your home. They may also suggest small, affordable adjustments that can often have a huge impact. Professional stagers use their knowledge of design trends, real estate ethics, and property renovation solutions to help home sellers reach their goals for the sale.
Why do you need professional staging and photography?
Staging and photography can make a bigger difference than you might realize. Heather Weber, Listing Manager for our team shared a personal experience where minor adjustments using professional staging totally changed the outcome of a sale. She shared, "We listed a home without any staging, and after two months on the market with very little activity, the sellers agreed to our suggestion that they take it off the market for about three weeks and make some interior changes. They met with the stagers, painted one room, decluttered all over the home, and added some more neutral soft furnishings (shower curtain, bed linens, etc). The home went under contract the first weekend after we relaunched it for nearly the full asking price. Just those small changes allowed buyers to see how much they were getting for the price when they couldn't see it before." Professional photographs of a staged room will capture your home at its best to elicit a positive emotional response in buyers, leading them to schedule a showing. This is the power of professional staging and photography. Can you see the difference in the photos below?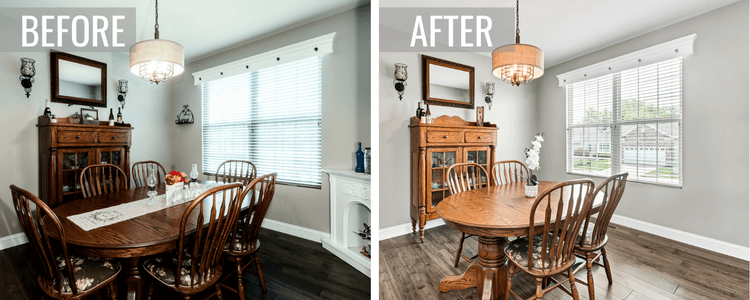 How does professional staging benefit your home sale?
Staging makes rooms appear larger
Home staging is an art, and it has to do a lot with space. Professional stagers will work with you to reduce clutter and maximize the space you are working with using the arrangement of your furniture. If you remember when you first walked into your home, you probably felt like the rooms were so much bigger before you began filling them with furniture. The more you put into a space, the smaller it seems. A simple way to open up a room before you list your home is to cut down on the number of things that you have in it. Cutting down clutter as well as strategic placement of items to keep a good flow can make even the smallest rooms appear open and airy. This will make them far more appealing to potential buyers. If your house feels small and cramped, buyers will quickly be turned off to the idea of living there.
Staging helps buyers visualize themselves in the home
Everyone has their own individual style and taste, making the way you decorate your home innately personal. What you must understand as a seller is that when you are selling your home it is no longer yourself that your home must appeal to, but the buyers walking through it. When you remove personal decor, reduce clutter, and use neutral tones, you turn your house into a home that buyers can visualize themselves in. It may be surprising, but something as simple as the color of a wall can easily cause potential buyers to move along without a second thought. When you effectively stage your home for sale, you are increasing the likelihood that buyers will make an emotional connection with what they see. They begin to imagine their own family living in these spaces. The more buyers connect with a home on an emotional level, the more likely they will be to put in an offer. You want buyers to walk into your home and think, "I could live here". Professional staging is one of the best tools we have to make this happen.
Staging defines how a room should be used
Buyers should never have to guess the purpose of a room when they walk through your home. How we live in our home and how we sell it can be very different. While certain rooms in your home may serve multiple purposes (such as a living room doubling as a fitness space), when you go to sell you should give each space a defined and single purpose. Even though you may think the intent of a space is obvious, it can be difficult for some people to visualize how an area should be used. Professional stagers will use your items to define a clear purpose for every space in your home.
Staging highlights the best features of a home
Maybe your home has amazing built-in shelving, but it's covered in DVDs and games. Or it has a beautiful trey ceiling and crown molding, but there is a huge four-poster bed in the room distracting the buyer's eye. These are the features that make your home unique, and you want to make sure those who walk through the home don't miss them. Professional stagers will work with you to make sure nothing in a space takes away from the beautiful and unique features that buyers will go after.
You must also remember that homes are lived in, and even though you may have addressed many items needing attention as you prepared your home for sale, it will never be completely perfect. In some cases, a house may have some downsides, like size or proximity to busy streets, that just can't be changed. A well-staged home will present itself in such a way that buyers can overlook these downsides, or in some cases not even notice them, because they are so drawn in by the beauty of the home's positive features.
Professional photography takes your listing to the next level
The National Association of REALTORS® (NAR) 2020 Home Buyers and Sellers Generational Trends Report shares that 93% of all buyers went online to search for their home. With the rise of online shopping, it comes as no surprise that buyers are browsing the internet for houses at an overwhelming rate. This is why it is imperative that your listing has a strong online presence that will make buyers stop and look at your home instead of just scrolling past it. While staging will play a huge role in this, what will catch the eye more than anything in an online listing is outstanding photos of it. Professional real estate photographers know what it takes to capture the home's beauty through the lens of their camera. Combined with post-production editing, and in some cases, video, a professionally photographed home listing is guaranteed to stand out from the crowd.
The power of professional photography
We have seen the power of professional photography so many times. The home in the photo below was an inherited listing that had been sitting on the market for a month with no staging or professional photography. After updating the listing with new photos from a professional photographer, the house went under contract almost immediately at the full asking price. There was absolutely no additional staging or changes at all besides the photography. Isn't it amazing what a difference something so simple can make?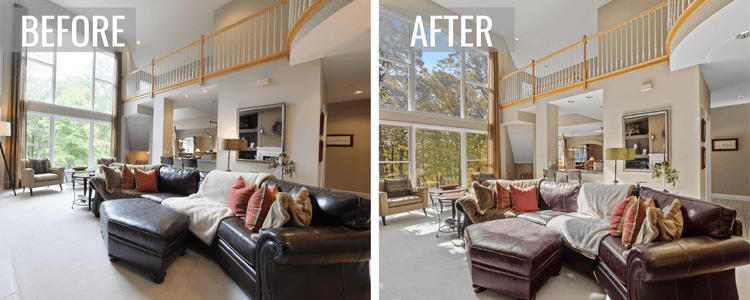 Are you looking to get the most from your home sale?
If you want to net the most amount of money, within the least amount of time, with the fewest problems, then professional staging and photography are the key. At the Heartland Network-Mid MO we implement a top-of-the-line marketing strategy, including professional staging and photography with every home we sell. We absorb these costs, which sets us apart from many other REALTORS®. When you list your home with our team you will see the difference. We would love to speak with you about your real estate goals and how we can help you get there. Contact us today or fill out the form below and a team member will reach out!