How to Improve Your Credit Score [INFOGRAPHIC]
Posted by Jen Smith on Monday, December 19, 2022 at 1:04 PM
By Jen Smith / December 19, 2022
Comment
When you start thinking about buying your next home in Mid-Missouri, it is essential to ensure that your credit score is solid, so it gives you the best chance to qualify for a mortgage. Your personal credit score is a rating of your financial risk that lenders use to determine your risk and other factors, such as your interest rate or if you qualify for a home loan at all. Lenders generally require a minimum credit score to be eligible for a mortgage loan. If you ever find yourself in a position where you cannot meet the lender's minimum credit score or you want to improve your rating to qualify for better interest rates, don't stress! We have compiled the following tips and tricks to help you learn how to increase your credit score and qualify for a home loan in the Mid-Missouri Region.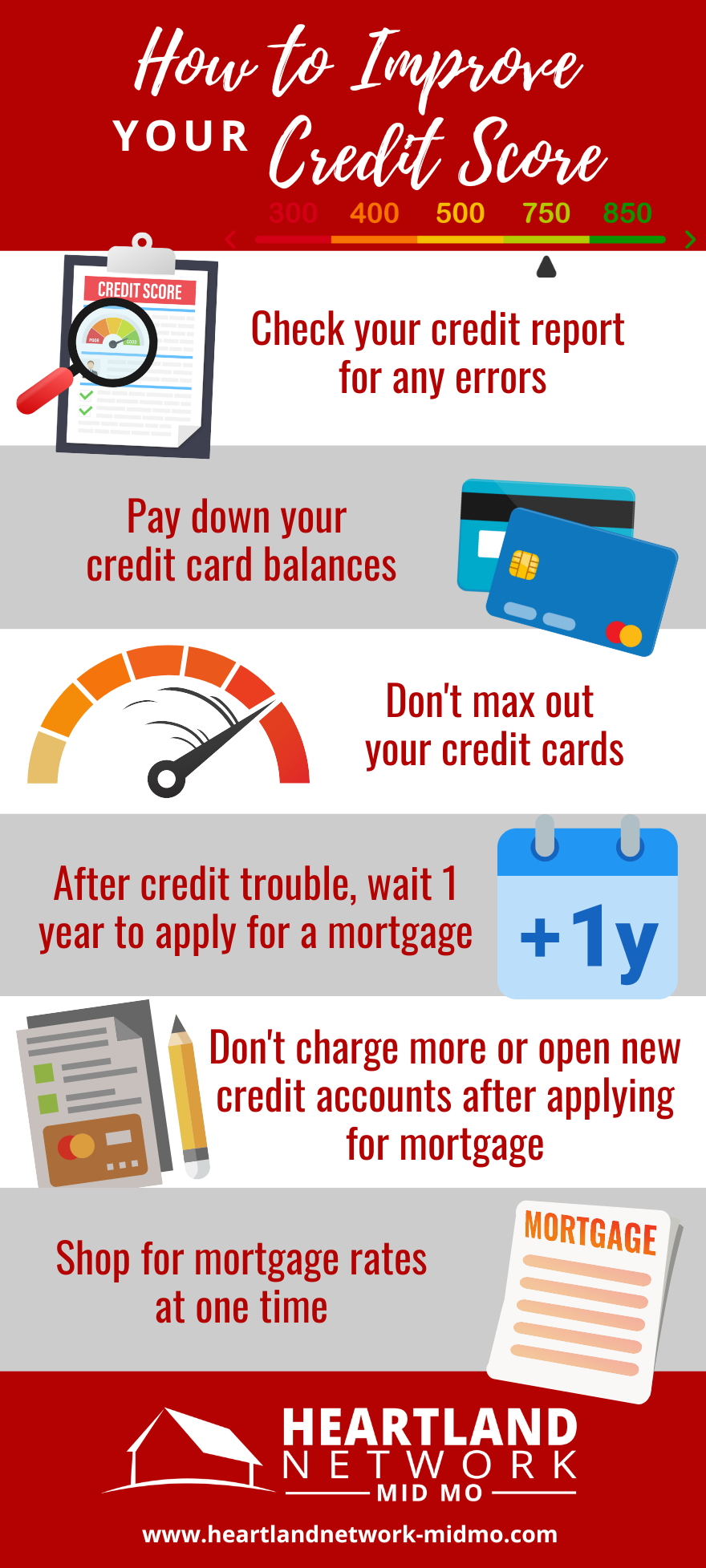 Check Your Credit Report for Errors
First, it is important to monitor your credit report regularly to ensure there aren't errors. Watching your report closely means you can dispute mistakes quickly before they have time to impact your credit score. The good news is that there are several places where you can monitor your credit report, including Annual Credit Report, which allows you to pull one full credit report free every year. Moreover, you can consider signing up for credit monitoring services, but these do usually come at a fee.
Pay Down Credit Card Balances
Typically, the lower your credit card balances, the higher your credit score will be. So, if you carry high credit card balances, paying them down as much as possible is an excellent way to increase your credit score. When you have less debt, lenders view you as less risky. Hence, paying off all credit card balances every month is a great habit.
Do Not Max Out Your Credit Cards
It is never wise to charge your credit cards to their limit. The best practice is to keep credit card usage at around or below 30 percent of its limit. When you keep credit card debt around this target number and pay balances to reach below the 30 percent threshold, you will improve your score.
Wait One Year After Credit Trouble to Apply for a Mortgage
If you have recently run into credit trouble, such as collections, missed payments, etc., then you should wait at least a year before applying for a home loan. The penalties for these types of problems impact your credit less after one year has passed. So, waiting is likely to help you qualify for better rates as long as you do not run into additional issues.
Do Not Charge More Purchases or Open New Credit Accounts After Applying for a Home Loan
Once you apply for a home loan, there are several things you should not do, and increasing your debt is definitely one of them. It is too easy to get excited about the home you just secured a contract for, but the last thing you should do is run out and apply for new cards or run up current ones to furnish the house. This can negatively affect your credit and could change your loan terms or make it to where you don't even qualify at all.
Shop Around for Mortgage Rates at One Time
When shopping for mortgage rates and lenders, it's best to do it all at once. Multiple inquiries can negatively impact your credit. Still, when there is more than one inquiry for the same type of credit (i.e., a mortgage) over a short time, it may be counted as just one inquiry and impact your credit score less.
Closing Thoughts
If you are like most people and plan to finance your home, then building credit and maintaining a good score is a crucial part of the home-buying process. Following the tips we outlined above can be very useful, especially for first-time buyers looking to build credit or those looking to improve their credit scores before applying for a home loan.
Establishing a relationship with a trusted, local lender is always a great first step to formulating a more personalized approach to improving your credit score. This person can examine your unique credit situation and help you understand all available lending options, and what steps, if there are any, you need to take to increase your credit score for better loan terms.
Obtaining a pre-approval for a mortgage is another vital step you should take early in the home-buying process. We recommend our clients work with local lenders who provide excellent communication, a proven track record of success and know how to close deals on time. We have worked alongside hundreds of home buyers and have experience with many local lenders who we know and trust.
If you are looking to buy a home in the Mid-Missouri Region, our team of professionals is ready and willing to guide you through every step of the home-buying process. If you have any questions about obtaining a mortgage or have other real estate needs, don't try to go it alone. Complete the short form below, and a member of our team will be in touch to discuss your unique needs.