How to Get Top Dollar When Selling Your House
Posted by Beth Carr on Monday, September 19, 2022 at 12:03 PM
By Beth Carr / September 19, 2022
Comment
If you are selling a home in Columbia, Missouri, or surrounding areas, you are probably hoping to get the most amount of money possible for your house. So, how can you do that? The way you present your home when it first hits the market is often a huge driver of the final outcome of your sale. The good news is, there are some pretty simple things you can do that will drastically increase the likelihood that you will walk away from your home sale without feeling like you left any money on the table. Let's take a look at what you can do to help get top dollar when selling your house.
Price It Right
Price is the number one factor that most homebuyers use to determine which homes they want to view. Pricing your home properly from the moment it hits the market sets the course for how long your home will stay on the market as well as the amount of money that you ultimately receive in the sale. If you price your home too high or too low, it will negatively affect the final outcome of the sale. The Heartland Network-Mid MO uses a unique and highly-effective, data-based pricing approach that is proven to secure the best outcome for our sellers.
Don't Forget Curb Appeal
When you are selling a house, first impressions are everything. If potential buyers aren't attracted to what they see on the outside of your house, they may not even bother to see the inside, resulting in missed opportunities. For the best sales outcome, buyers should feel emotionally connected to your home. A house with curb appeal means helps buyers get a warm and fuzzy feeling when they look at your home from the outside. The exterior of your home should be welcoming and leave buyers wanting to see more.
Make Necessary Repairs
Resale homes are rarely in perfect condition, but excessive repairs, even small ones, will leave a poor impression on buyers. Whether you are dealing with a leaky roof or a dripping faucet, it is in your best interest to make these repairs before you list your home for sale. Regardless of how you handle home repairs, you are required to disclose any problems with your home to avoid potential legal trouble in the future.
Lose the Clutter
Besides cleaning, a cheap and simple way to transform your space is to reduce the clutter. Bulky furniture can make a space look smaller. If you have too many things in an area such as knickknacks and decorative items, it may distract from the positive features of your home that make it unique. Today's buyers want homes that are airy and open, so the less stuff you keep around, the better. Heartland Network-Mid MO provides our sellers with a free professional staging consultation to help you determine ways to best present your home, including what items should be removed before listing.
Clean, Clean, and Clean Some More
A freshly cleaned home smells nice, looks nice, and can completely change the way buyers view it. As we already mentioned, you want to make the best impression possible, so buyers can see the home's value. One of the easiest and cheapest ways to achieve this is to make sure every square inch of your home has been cleaned and looks as new as possible. This to-do checklist will help you through the process to make sure you don't miss a thing.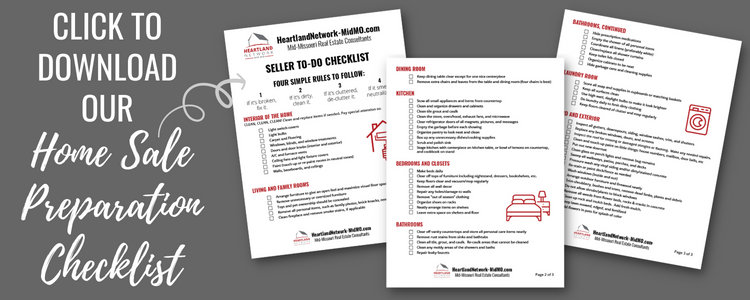 Don't Over-Improve
We often get asked by sellers what upgrades bring the highest return on investment. The answer is: "Only the ones that future buyers will also want and be willing to pay for." It is good to make upgrades and improvements to your home, but if you are doing so with the intention to sell, they must be done strategically. You do not want to end up spending more money than you get out of these improvements. A rule of thumb would be to choose functional over merely cosmetic and neutral over exotic; these will typically pay at resale. Everyone has their own personal taste and you should consider current trends as these will have an effect on the ROI of an update.
Remove the Emotions
Selling a home, full of memories and important life events, is naturally an emotional event. However, when it comes time to sell, you need to take emotions out of it and treat your home sale for what it is - a piece of property for which your goal is to sell quickly at the best possible price. We know this can be tough, but if you want to get top dollar, it's crucial.
In Conclusion
Securing the best outcome for your home sale really comes down to how you price and market your home from the beginning. Our team is here to help you through every detail that makes the difference when you list your home. With our help, you can rest easy knowing that you did everything you could to make sure that you are walking away with the most money possible.
Have questions about selling your home in Mid-Missouri? Would you like to hear more about our team's unique and proven approach to listing your home for sale? Contact us today for a free, no-obligation sellers' consultation!