How to Calculate the Net Proceeds From Your Home Sale
Posted by Beth Carr on Wednesday, September 28, 2022 at 12:00 PM
By Beth Carr / September 28, 2022
Comment

If you are considering selling your Mid-Missouri home, you are probably wondering just how much money you can expect to walk away with. While you may not know the exact answer to this question until you sign a sales contract with a buyer, you can certainly get a good idea beforehand. It all begins with how you price your home.
Pricing your home for sale properly from day 1 is a crucial component of our team's marketing strategy. That is because how you price your home from the beginning plays a huge part in the final outcome of your sale. A home's original asking price sets the course for how long it will take to sell and how much it will ultimately sell for. You should keep the following in mind about pricing your home for sale:
Hope is not a pricing strategy
"Need to sell for" is not a pricing strategy
"Want to sell for" is not a pricing strategy.
It really comes down to this; your home is worth exactly what a ready, willing, and able buyer is willing to pay for it. Your listing price from the day your home hits the MLS will have a direct impact on your net proceeds when the sale closes. Let's take a look at what you need to consider when calculating how much money you will actually walk away with from your home sale.
What exactly are net proceeds in real estate?
Net proceeds are exactly how much money you will take away from your home sale at closing. In most cases, this amount is going to be less than what your home is worth, what you list it for, and even what it sells for. To figure out what this amount will be, you should take into account the costs to sell your home such as real estate commissions, taxes and fees, and the outstanding balance on your mortgage (if applicable).
As a home seller, you probably want to walk away with the most amount of money possible. Having a solid idea of what your net proceeds will be before you list your home can help you make decisions about things like repairs and improvements to make sure you are making wise investments that will add true value to your home sale. Your net proceeds probably also play a factor in what you can pay for a new home since you are likely going to use this as a down payment for your next purchase.
Our team will work with you as a seller to determine your potential list price and estimate potential costs to sell your home in the Mid-Missouri area, so you can have a solid idea of what your net proceeds will be before you make a decision to put your home on the market.
What expenses do I need to consider in my net proceeds calculation?
It is important that you factor in ALL of the transaction costs that take place throughout the entire selling process. Typical costs to sell a home include:
Real estate agent fees
As a seller, you are probably going to be expected to pay the commission for both your own listing agent, as well as the agent representing the buyer. Commission can vary depending on if you have selected full-service agents or limited-service discount agents.
Repair costs
If you want to get top dollar for your home, you are probably going to need to make at least some small repairs. This will make it most appealing to buyers. You should consider the cost of any repairs or improvements that you make to your home when you are preparing it for the market.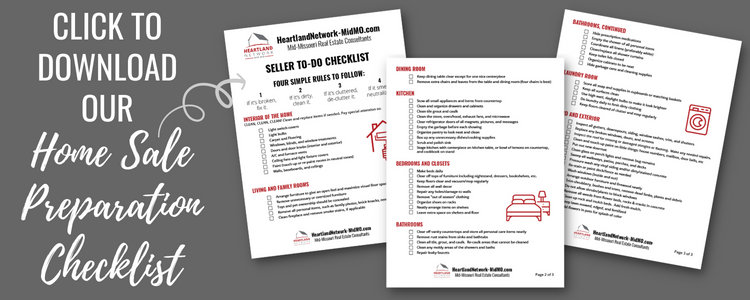 Staging costs (if applicable)
Staging is a crucial part of maximizing your net proceeds from the sale of your home. You should consider the return on investment when staging your home. Luckily, it can often be done without spending a lot of money.
Heartland Network-Mid MO provides a free professional staging consultation and photography to every seller, allowing you to save time and money. See the benefits of professional staging and photography for your home sale here.
Inspection-related repairs & seller concessions
Once you accept a contract on your home, the buyer will most likely have a home inspection performed. Oftentimes, they will ask that repairs be made based on this inspection. The details of the repairs will be negotiated between you and the buyer, but these are costs you must work into your net proceeds calculations.
You may also agree to seller concessions. This is when the home seller agrees to pay a portion of the buyer's expenses. Usually, this involves covering some or even all of their closing costs. Seller concessions are determined by current market conditions and what terms you are willing to accept in the sales contract.
Home ownership overlap
If you purchase a home before you list your current home or before your current home sells, there may be an overlap in ownership between the two. Costs associated with this overlap need to be considered.
Closing costs
In addition to potentially agreeing to cover a buyer's closing costs, you will also be responsible for your own closing costs as the seller. These include items like title fees, transfer tax, notary fees, and more. You should receive a detailed statement of closing costs associated with the transaction so you know exactly what you are paying.
Outstanding mortgage balance
Finally, you need to consider how much you still owe on the home you are selling. This will need to be paid off when you sell the home and must be used in your net proceeds calculations.
How do I calculate my net proceeds?
Calculate the net proceeds of your sale by doing the following:
1. Write down the selling price (or potential selling price) of your home.
2. Subtract ALL selling costs (listed above) from the selling price.

For example, if you sell your home for $300,000, with selling costs of $200,000 (including an outstanding balance on your current mortgage of $175,000), your net proceeds will be $100,000 represented in the equation below.
$300,000 (home sale price) - $200,000 (selling costs) = $100,000 (net proceeds from your sale)
In Conclusion
Having a solid idea of how much money you will walk away with from the closing table plays a part in many of the decisions you make about selling your home, including if selling it even makes sense at all. Our team will use our data-driven pricing strategies to determine the best price to list your home for sale and will help you consider all of the costs associated, so you can have a really good idea of your expected net proceeds at closing.
If you have any questions, would like to meet with one of our team members, or would like to get the listing process started, contact us today!