Critical Questions to Ask When Choosing a Home Builder
Posted by Jen Smith on Wednesday, November 8, 2023 at 3:05:24 PM
By Jen Smith / November 8, 2023
Comment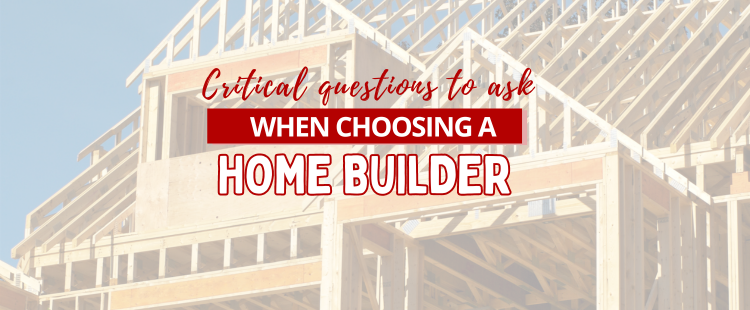 If you're looking for new construction in Columbia, MO, you're making a wise choice. Many homebuyers in the Columbia area are turning to new construction for various reasons. However, selecting the right builder is a critical decision in the process. To help you make an informed choice, we've compiled a list of essential questions to ask when choosing a home builder for your Columbia, MO project.
1. How many years have you been in business?
It's crucial to work with a builder with a solid track record. In Columbia, experience matters. Inquire about the builder's years in business and the number of homes they've constructed. A well-established builder is more likely to stand by their work and honor warranties down the road.
2. Can you offer testimonials or connect me with previous clients for references?
Reviews and testimonials provide valuable insights into a builder's reputation. Request references from past clients and check online reviews, including sources like the Better Business Bureau (BBB) if applicable. Don't be deterred by a few negative reviews; focus on a builder with a consistent record of satisfied customers.
3. Are you fully licensed (if required) and insured?
While Missouri doesn't require home builders to be licensed, ensure that the builder is fully insured. This protects you in case of unforeseen situations.
4. Could you share the locations of your display homes? If not, can I visit a completed project for a firsthand look?
Inquire about the location of the builder's display homes in Columbia. These are valuable for touring and getting a feel for their work. If there are no display homes in your chosen area, ask if you can view a similar home in another neighborhood or one built for a previous client.

5. How long will the building process take?
Ask the builder for an estimated timeline for your project. Be aware that delays can occur due to supply chain issues and weather. Choose a builder who keeps you informed if any delays arise.
6. What warranties are provided with the home?
Understand the warranties provided with your new home and their duration. Keep all warranty-related paperwork for future reference.
7. Is the cost of the lot included?
If you're building on the builder's land or lot, clarify whether the lot cost is included in the pricing to avoid surprises.
8. Can you provide me with a list of standard finishes for your homes?
Determine what is included as standard in your new home. This can vary, so ask about items like walls, insulation, roofing, windows, and garage doors. This information helps you budget for any desired upgrades.
9. What options and upgrades can I choose from?
Inquire about available options and upgrades. New construction offers customization opportunities, so ensure the builder allows you to personalize your home.
10. Are customizations an option?
Some builders permit customizations to their floor plans, while others may not. Knowing this in advance helps with your decision-making.
11. Is it possible for me to supply my own materials or appliances, and if yes, will I receive credits or discounts?
If you want to provide your materials or appliances, check if the builder allows it and whether you'll receive any credits or discounts.
12. Is landscaping included with the home?
Understand what is included in the price, including landscaping and lawn-related expenses. It's essential to clarify the scope of work, whether it covers the entire yard or only part of it.

13. What energy-saving features do you offer?
One of the amazing benefits to building a new home offer the latest energy-saving technology. Ask about the energy-efficient features included and any available upgrades.
14. Do your contracts include a cost Escalation Clause?
Ensure your contract addresses cost adjustments due to fluctuations in raw material and labor costs. Be clear on the builder's policies regarding changes in pricing.
15. Are there any homeowners rules or Homeowners Association (HOA)?
In Columbia, some neighborhoods have homeowner associations with specific rules and regulations. Determine if there's an HOA and whether it aligns with your preferences.
16. Are there any financial benefits to using the builder's recommended lender?
Some builders may offer financial incentives if you use their preferred lender. Inquire about these potential benefits.
17. Are there limitations to how often will I have access to the home during the building process?
Find out how often you can access your home during the building process. Many people enjoy monitoring the progress.
18. What is your standard communication method during the building process?
Understand the builder's communication process during construction, especially in the event of delays or complications.
19. What is your process if complications arise?
Delays and complications are common in new construction. Ensure the builder has a clear plan for handling these issues and keeping you informed.
20. What procedures do you have in place for inspections and ensuring quality?
Ask about the builder's inspection and quality assurance processes. Confirm if you can hire a third-party inspector for added peace of mind.

Choosing new construction in Columbia, MO is an exciting journey. Empower yourself with information from the start to make informed decisions.
The Heartland Network has extensive experience in helping clients navigate the home-building process. We can assist you in selecting the right subdivision, floorplan, and upgrades, all without charging you a fee since the builder covers our commission fees. How incredible is that?!
Have questions or are you ready to start your custom dream home? Contact us today or fill out the form below!