6 Benefits of Building Your Own Home [Infographic]
Posted by Jen Smith on Tuesday, July 18, 2023 at 11:30 AM
By Jen Smith / July 18, 2023
Comment
Looking for a new home can be overwhelming at first. At The Heartland Network we understand this feeling and want to do our best to simplify the process to ensure our clients feel confident in their home purchase. Where do we start? The best way for us to know how to assist our clients is to create a list of all our clients' home wants & needs. What happens when these wants and needs can't be found or a buyer cannot secure a contract on what they feel is a "perfect home"?
Right now in the current seller's market, there are more buyers than there are homes. What does this mean? Sellers may be receiving top dollar for their homes, but, there is fear in wondering if they will be able to secure a new home. If you are like many other sellers looking to take advantage of the market, you should know that resale doesn't have to be your only option. Homebuilders are seeing buyers choose new construction more than ever for many reasons.
Recently, the Division of Sales Manager for Lombardo Homes shared, "New construction homes are selling at a faster pace than we forecasted. Many clients who weren't originally in the market for a new construction home are finding themselves in our sales offices and displays. The lack of resale homes on the market combined with current bidding wars and losing out on multiple homes within the existing real estate market have pushed these clients to homebuilding. Once they have the opportunity to see what's available to them, these clients love that they can secure a homesite and floor plan, skip the bidding war, and customize their home to suit their lifestyle perfectly."
Whether you are desiring the "new home" feel, want to fully customize your home or simply cannot find what you are looking for on the resale market, new construction just might be the perfect solution for you. Here are a few of the many reasons buyers are choosing new construction for their home purchase.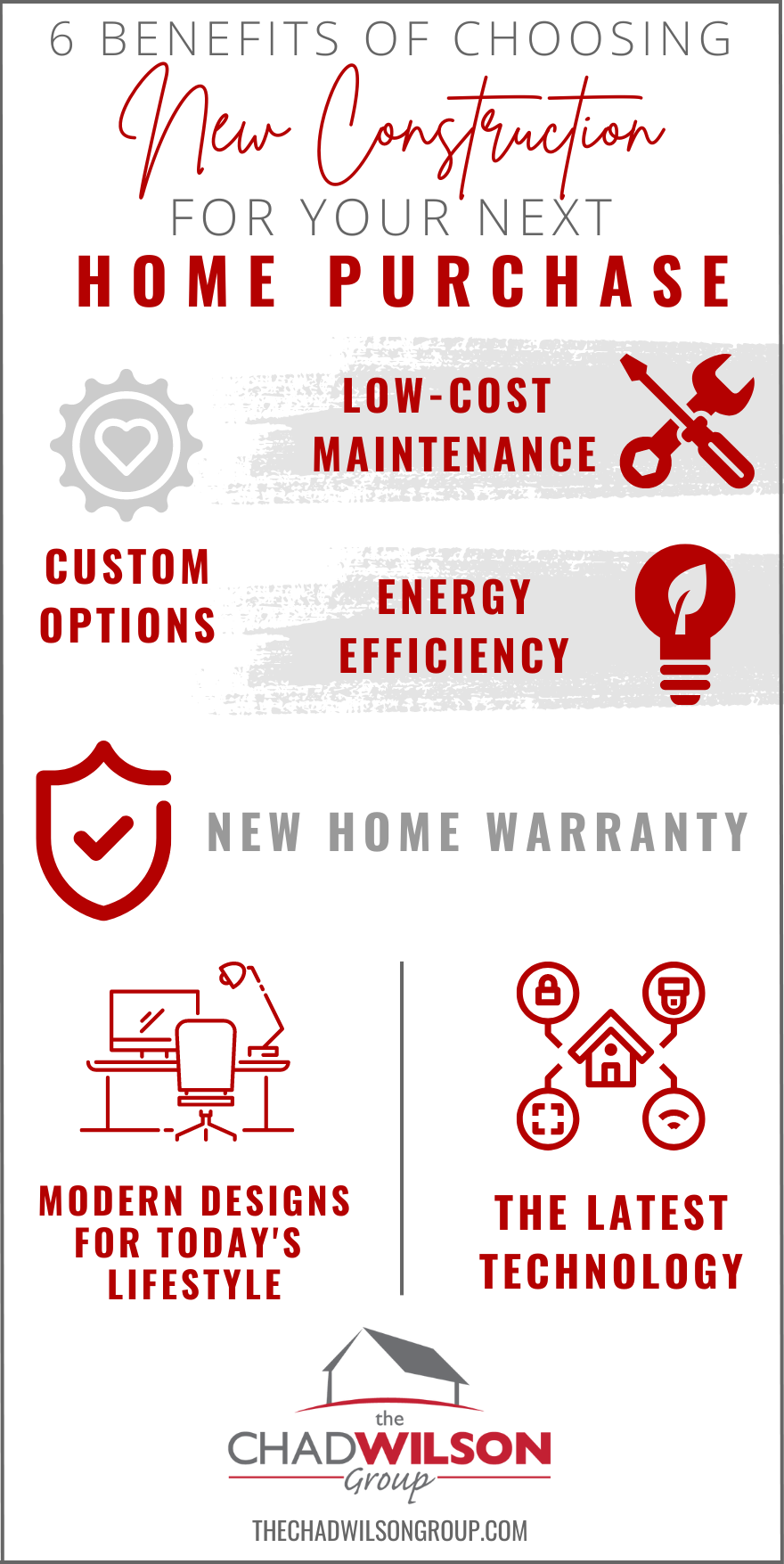 1. Custom Options
When building your custom home, there are many features that builders offer that will compliment your style preference and unique needs you have. This is the perfect way to ensure all your needs are met from the very start without later making the costly upgrades.
2. Low-Cost Maintenance
As new construction properties are built brand new with up-to-date materials and codes, you can live worry free knowing there will not be costly maintenance. Owning a home can come with worries or fears when it comes to appliances, plumbing, wiring or technology possibly falling apart or needing expensive repairs. With new construction homes, all of these necessities are modern and up-to-date, allowing you to live worry-free.
3. Energy-Efficiency
Energy-efficient systems and appliances are created with the most up-to-date technology and modern construction, meaning, your utility bill will be lower.
4. New Home Warranty
New construction homes come with a home warranty that grants buyers peace of mind, as they know they will not be stuck with large repairs that occur within the warranty period. Typically, this is not the case with resale without extra fees.
5. Modern Designs For Today's Lifestyle
Styles and preferences change over time and many homeowners were left with brand new ideas and visions of what their "perfect home" looks like. Making the choice to build a new construction home, means buyers will discover modern floor plans as well unique spaces such as: rec rooms, mud rooms and home offices.
6. The Latest Technology
What are Smart Home Options? Smart controls, learning thermostats and security systems are just a few of the many latest technology options you can add to your new construction home from the very start.
If you are interested in learning more about building vs resale, check out our other blog posts!
Looking for New Construction in the Mid-Missouri area?
See new construction homes for sale in each county by clicking the links below.
Boone County New Construction Homes for Sale
Callaway County New Construction Homes for Sale
Cole County New Construction Homes for Sale
In Conclusion
If you are considering a new construction, we want to assist YOU! We would love to connect you with one of our Buyer Specialists who will set up a Buyer needs/wants analysis to assist you in finding the right builder, location, and design for your needs. We provide our buyers with an expert full-service team who will be powerful advocates and guide you through the entire process of building your new home. We have created a step-by-step system to deliver nothing short of an exceptional customer experience. Buying a home is not only one of your largest investments, it is the foundation for your family. We believe having someone in your corner to help you negotiate price, terms, upgrades and navigate you through the progress is extremely important. We would love the opportunity to share our expertise and work for you throughout the entire construction process.
The Heartland Network is here to assist you with your new construction build. Whether that be in a subdivision, on land or purchasing an existing inventory home. Connect with us today using the contact box below to get the process started!