10 Advantages of Selling Your Home With a Real Estate Team
Posted by Beth Carr on Thursday, September 29, 2022 at 10:45 AM
By Beth Carr / September 29, 2022
Comment

So, you've decided to sell your home. What should you do next? For most people, the answer is to hire their REALTOR®. When trying to decide who to work with, it can become intimidating, especially if you don't already have an established relationship with a REALTOR®. There are an overwhelming number of choices in Columbia, MO alone.
An important thing to consider when choosing a REALTOR® is whether they are working as a solo agent who manages the entire process, or if they are part of a real estate team. A real estate team is a group of real estate professionals who work together for you to sell your home. The structure of teams may vary, but they all provide undeniable advantages to their clients. Let's dig into the advantages that you will enjoy when selling your home with a real estate team, like Heartland Network-Mid MO.
1. Specialization of Team Members
There are many things that go into selling a home effectively: Pricing your home, staging it, marketing it effectively, navigating showings, negotiating the contract, working through the contract-to-close period…the list goes on and on. An individual agent must work through each part of the process on their own.
Imagine a doctor who answers the phone, schedules appointments, greets patients, diagnoses problems, manages patient care, sends out bills, and navigates insurance payments, all on their own. It wouldn't be possible for that doctor to perfect his work with patient care if he was also responsible for everything else, and his patients might suffer as a result. He would either have to work with fewer patients to keep up with the scope of work for each, meaning his breadth of experience would be limited, or he would have to provide more surface-level service to each patient, perhaps missing important details along the way.
When you hire a real estate team to represent your home sale, you will have a group of specialists who are all working together on your behalf. Each team member focuses on their own area of responsibility, allowing them to become an expert in that area. They understand the latest trends and resources because they use them on a regular basis. Their focus is narrower, so they are able to provide the highest level of service to you to make sure each step is handled with extreme care and attention to detail.
2. Dedicated Vendors
A successful real estate team will have a larger number of clients than an individual agent. Due to this higher volume of work, these teams will be able to partner with the best companies to provide select services to their home sellers, such as home staging, professional photography, and repair and maintenance contractors. These highly skilled professionals are often willing to go above and beyond for those teams, due to the higher volume of work that a team provides. This trusted relationship brings value to both the team and their clients.
3. Collective Knowledge and Experience
It's difficult to know everything about every situation that may come up. If you think about it, you probably rely on the knowledge and experience of others in many situations. It is no different for real estate professionals and every transaction is unique.
When an agent is working alone, they typically have to rely on their own experience and knowledge. For real estate teams, more people involved in your sale means more knowledge and experience to draw from. Rather than relying on one person's knowledge and ability to get information, you can rely on several. Members of real estate teams work closely with one another, and what one team member doesn't know or hasn't experienced, another team member probably has and they can fill in the gaps. When you work with a team, you are getting the knowledge and experience of the entire team collectively.
4. More Potential Buyers to Draw From
On a real estate team, you get the sphere of influence and lead generation efforts of every single team member, who each spread the word about your home. Because all of the members of the team are committed to the success of the team as a whole (including all clients of the team), they all want to secure a buyer for your home just as much as your own agent. Additionally, teams have the people and resources to handle multiple inquiries, so your potential buyers aren't kept waiting for information, which can easily detract them. A larger buyer pool often means more money and a quicker sale for you.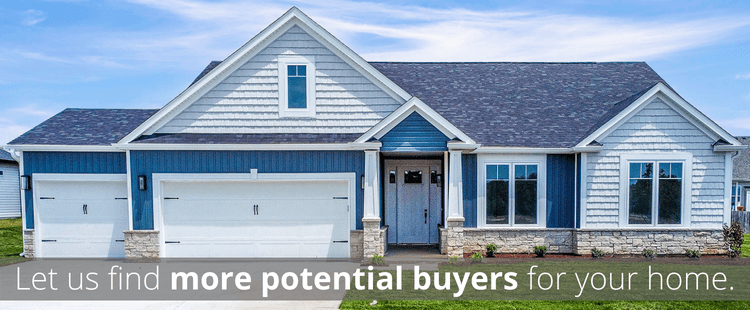 5. Reliable Responsiveness
It is impossible for an individual agent to be everywhere at once. They are covering every aspect of the service for each of their clients, so their time can be stretched thin. When they take a vacation or get sick, they must still figure out how to remain responsive to their clients. You will probably have questions, and it can become frustrating to be left waiting for an answer to those questions.
When you choose to work with a real estate team, you have multiple real estate professionals working together to sell your home. Someone will always be available to answer your questions. A well-run team will have systems in place to ensure that everyone is on the same page regarding your home sale, allowing multiple team members to be able to step in when needed. Weekends, evenings, and even holidays - someone who can help will be available to you at all times!
6. Constant Coverage for Questions from Potential Buyers and Their Agents
Nothing is more frustrating to a potential buyer than not being able to get their questions answered regarding a home they may want to purchase. Just as you will always have a team member available for your questions, potential buyers and agents will always have a team member at their disposal as well. You don't have to worry about missing out on a sale or a deal falling apart because a buyer or their agent couldn't reach someone to ask a question. Teams ensure that someone is always reachable, no matter when it might be.
7. More Marketing Resources
Real estate marketing is rapidly evolving. New platforms and technologies are constantly arising to help promote your home to as many people as possible. It can be tough to stay on top of them all, and ultimately, to be able to afford to actually use them.
It may be difficult for individual agents to find the time and financial resources to utilize the latest marketing platforms on their own. Real estate teams will often have one or more marketing specialists whose sole purpose is to promote your home to be seen by as many people as possible. Since teams usually do a higher volume of business and have more resources than an individual, they are more likely to be able to afford to subscribe to helpful platforms and purchase the latest technology to promote their listings. This means more visibility for your home sale.

8. More Streamlined Processes
Practice makes perfect. The best way to get really good at something is to do it over and over again. Teams are able to operate smoothly at a high level with the help of scalable processes. Each person on the team does their work over and over again, perfecting the process for the benefit of the clients. By marrying the skills of individuals with perfected, repeatable processes, real estate teams are able to maintain a higher volume of business without sacrificing quality.
9. VIP Services and Systems
A real estate team has more financial resources, allowing them the ability to offer better services. These services and systems mean a smoother transaction for you and your buyer. A commonly provided VIP service that real estate teams offer is a professional staging consultation that helps you present your home at its best. Also, teams often subscribe to services like ShowingTime to easily and conveniently coordinate showings for your home. Teams are able to implement these types of services more often, giving their clients an exceptional experience.
10. Superior Customer Service
All of these things already mentioned culminate in a simple, overarching concept...superior customer service. Real estate teams are able to accomplish more because they consist of a group of individuals working together to accomplish a common goal. They won't get bogged down with handling every aspect of multiple transactions. The number one focus of every team member is you, the client.

Why Choose Heartland Network-Mid MO
Heartland Network-Mid MO is a full-service real estate team serving the Mid-Missouri areas of Boone, Callaway, and Cole Counties. We are a group of individuals, working together for your best interest. Choosing our team to represent you means you can rest assured, knowing that an experienced group of professionals will be there to guide you every step of the way.
Contact our team today to talk about how we can put our strategies to work for you!