Jack Roush
REALTOR®, Licensed in Missouri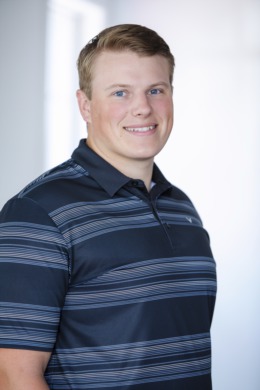 Jack Roush, REALTOR®, Licensed in Missouri
Listing & Buying Specialist
Jack Roush grew up in Columbia, Missouri, and graduated from Rock Bridge High School. After four years of playing football at Missouri S&T, he graduated with a Bachelor's Degree in Business and Management Systems. After college, he decided to move back to Columbia. Jack obtained his Missouri real estate license in the summer of 2021 and joined the Heartland Network - Mid MO team in 2022 to launch his real estate career. Jack is a Listing and Buyer Specialist in the mid Missouri area and looks forward to providing his clients with "Simply Exceptional Service".

Jack is known for his integrity and service to others. He recently took a role at Battle High School coaching football. He's really enjoyed getting to work with high schoolers and teaching them the game of football. In his free time, Jack loves to golf and watch sports. Ask him any question about the Chiefs or the Cardinals and he will have an answer for you!
Testimonials
My fiancé and I had the pleasure to work with Jack Roush from the Heartland Network. Jack is in my opinion one of the best agents in the Columbia area. His communication is the best, always tried to keep us up to date with every little step. Columbia Real Estate really made us feel welcomed in when we first approached them. If you're looking to get into the market buying or selling I recommend you go meet them at their office.
Tiberius Rose, Centralia Buyer
Jack Roush has been an outstanding real estate agent! He made our experience of buying a home super easy and quick. He was very professional and knowledgeable. Very polite and courteous too. Any time my fiancé and I had any sort of questions, Jack answered them immediately. Highly recommend.
Dasha M, Centralia Buyer
I was absolutely astounded about how fantastic Heartland Network was to work with, especially our realtor Jack Roush! Jack was professional, on time, personal and most of all he deeply cared. I had several special needs for the house I was buying since I also plan on running my business out of it. Jack not only found the perfect house to meet these needs but exceeded my expectation. I cannot recommend them enough to anybody shopping for a home in mid MO!
Carley G, Fulton Buyer
I was extremely pleased with Heartland Network, especially our realtor Jack Roush. This was the first home I have ever bought & Jack was so kind to take the time to explain everything and be there every step of the way! I had no clue buying a home could be so easy with the help of Heartland!
Carley K, Fulton Buyer
Jack helped us with buying our first home! He was always available to chat and made the buying and closing process very easy! His whole team made sure things went smoothly the entire time!
Andrew K, Fulton Buyer
More Testimonials